Finally, a genuine use for my 'almost-famous' tag! I am honoured to be able to announce that I have been awarded MVP status for Xamarin.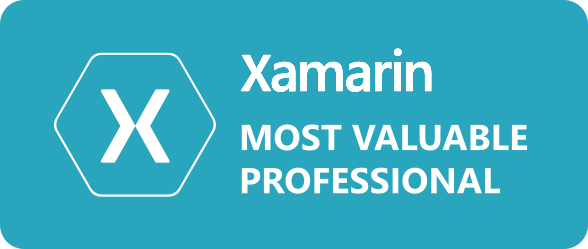 The award is for "outstanding independent community leaders who have demonstrated an exemplary commitment to helping others get the most out of their experience with Xamarin by sharing their passion, real-world knowledge, and technical expertise with developers all over the world.". The types of contributions they consider include:
Speaking at user groups, conferences, and online
Writing great articles, books, and blog posts
Sharing and building amazing plugins and components
Growing their local Xamarin community
Helping developers online in our forums, on Twitter, Stack Overflow, and other communities
Shipping awesome apps*
Someone must nominate you to be considered for an MVP award, and I don't know who it is that nominated me. So, mystery nominator - who I assume sees my blog from time-to-time - thank you!
Everybody celebrate! 🎉
* "Shipping awesome apps", that means GoatBoard, right? Sadly, no - GoatBoard came before my Xamarin days and is written in ObjC (eww). But yes, it is awesome - this evidence presented without comment.